Underutilised fruits: a review of phytochemistry and biological properties
Ahmad Hasan Salahuddin Mirfat

Ismail Amin

Kassim Nur Kartinee

Hamid Muhajir

Mat Ali Mohd Shukri
Abstract
Underutilised fruits are not only important sources of food and nutrition, but also secure household income especially for rural and farm communities. However, some of the underutilised fruits have not received much attention as compared to commercial fruits. This could be due to their lack of knowledge of their potential values. Hence, information about their health promoting properties is critical to increase the value of underutilised fruit species to enhance their preservation and sustainable use in strengthening food, nutrition, health and livelihood security. This article aims to provide a comprehensive review on the phytochemical properties and biological activities of underutilised fruit species grown in Malaysia focussing on health promoting aspects. With regard to phytochemistry, only 21 species of underutilised fruits have been identified and quantified. Phytochemical investigations of various parts of the fruits have revealed the presence of over 100 phytochemicals which are phenolics, terpenoids, carotenoids and other miscellaneous compounds. About 51 underutilised fruit species have been explored for interesting biological activities (antioxidant, antimicrobial, anticholinesterase, cytotoxicity, antiatherosclerotic, antihyperlipidemia, antidiabetic, cytoprotective, cardioprotective and antiplatelet activities) supporting their diverse traditional uses. Different parts of the fruits have been analysed mainly in vitro and barely in vivo, with pulp being the most dominant. Of all the underutilised fruits studied, Mangifera species and Canarium odontophyllum have been the major focus for researchers. The gaps obtained from this review create further research opportunities to add to the current knowledge of health promoting properties of underutilised fruits in Malaysia. More studies are needed to confirm the health significance and explain their mechanisms of action in order to fully understand the real potential of this underutilised fruit species.
Downloads
Download data is not yet available.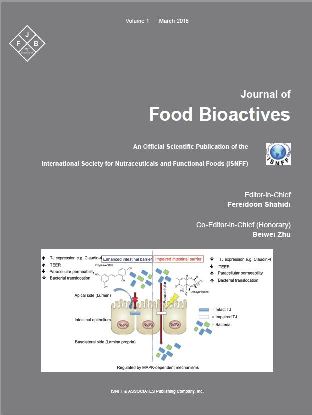 How to Cite
Mirfat, A. H. S., Amin, I., Kartinee, K. N., Muhajir, H., & Shukri, M. A. M. (2018). Underutilised fruits: a review of phytochemistry and biological properties. Journal of Food Bioactives, 1(1), 2–30. https://doi.org/10.31665/JFB.2018.1124
This work is licensed under a Creative Commons Attribution-NonCommercial 4.0 International License.