Critical review of encapsulation methods for stabilization and delivery of astaxanthin
Nauman Khalid

Colin J. Barrow
Abstract
Astaxanthin is an important carotenoid pigment and potent antioxidant with proven health benefits. It is primarily obtained from algae or bacteria and is the natural colorant in crustaceans and salmonids. However, this pigment readily degrades in the presence of light and oxygen and has low absorption rates in the human digestive system. Different encapsulation strategies have been adopted to improve astaxanthin physical stability and bioavailability for nutritional use. This review summarizes and compares different encapsulation techniques and matrices applied to astaxanthin. Typical methods for encapsulation include high pressure homogenization, nano dispersions, liposomes and nanoparticles. More recently low energy methods like membrane and microchannel emulsification have been used to improve astaxanthin stability and delivery. Despites the use of numerous delivery methods, improved delivery systems for concentrated astaxanthin formulations are still required. In addition, not all methods have undergone comprehensive in vivo studies that are required to assure the bioavailability of encapsulated astaxanthin.
Downloads
Download data is not yet available.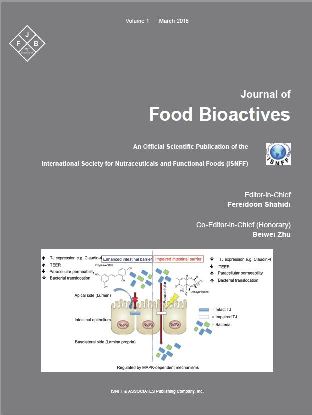 How to Cite
Khalid, N., & Barrow, C. J. (2018). Critical review of encapsulation methods for stabilization and delivery of astaxanthin. Journal of Food Bioactives, 1(1), 104–115. https://doi.org/10.31665/JFB.2018.1129
This work is licensed under a Creative Commons Attribution-NonCommercial 4.0 International License.