Bioactives in spices, and spice oleoresins: Phytochemicals and their beneficial effects in food preservation and health promotion
Feriedoon Shahidi

Abul Hossain
Abstract
Spices have broadly been used as food flavoring and folk medicine since ancient times. Numerous phytochemicals have been identified in spices, namely thymol (ajowan and thyme), anethole (aniseed), piperine (black pepper), capsaicin (capsicum), cinnamaldehyde (cinnamon), eugenol (clove), linalool (coriander), sabinene (curry leaf), limonene (dill seed), estragole (fennel seed), allicin (garlic), gingerol (ginger), safranal (saffron), and curcumin (turmeric), among others. The antioxidants in spices are very effective and also render anti-mutagenic, cardioprotective, anti-inflammatory, and anti-cancer properties. Apart from their antioxidant efficacy, spices, particularly their essential oils possess strong antimicrobial activity against bacteria, fungi, yeasts, and microbial toxins synthesis. In this contribution, a summary of the most relevant and recent findings on phytochemical composition and antioxidant properties of spices has been compiled and discussed. The content of phenolic acids, flavonoids, tannins, glycosides, steroids, and terpenoids in different spices are summarized. In addition, the beneficial effects of spices in food preservation and in health promotion and disease risk reduction are briefly described.
Downloads
Download data is not yet available.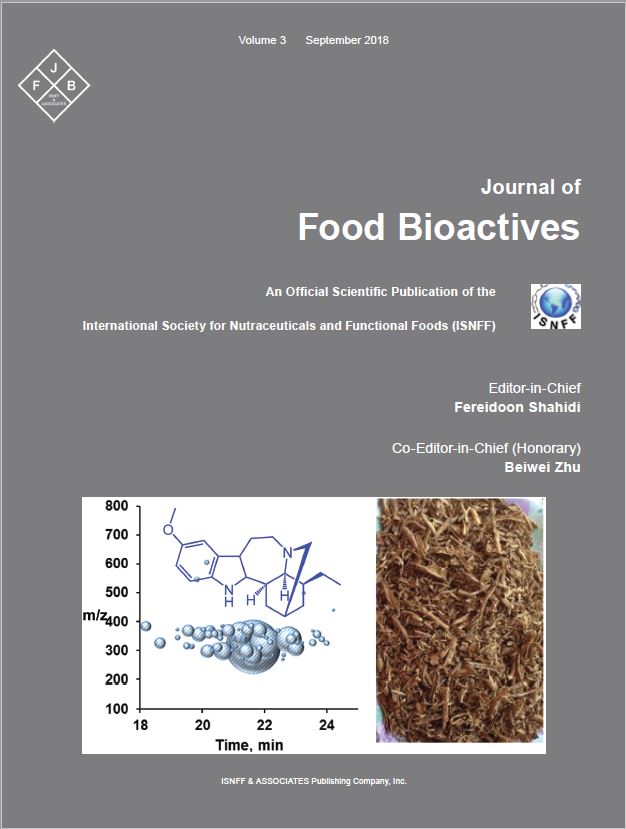 How to Cite
Shahidi, F., & Hossain, A. (2018). Bioactives in spices, and spice oleoresins: Phytochemicals and their beneficial effects in food preservation and health promotion. Journal of Food Bioactives, 3, 8-75. https://doi.org/10.31665/JFB.2018.3149
This work is licensed under a Creative Commons Attribution-NonCommercial 4.0 International License.