Anthocyanins and intestinal barrier function: a review
Jonathan C. Valdez

Bradley W. Bolling

Department of Food Science, University of Wisconsin-Madison
Abstract
Chronic intestinal inflammation, occurring in inflammatory bowel diseases (IBD), is associated with compromised intestinal barrier function. Inflammatory cytokines disrupt tight junctions and increase paracellular permeability of luminal antigens. Thus, chronic intestinal barrier dysfunction hinders the resolution of inflammation. Dietary approaches may help mitigate intestinal barrier dysfunction and chronic inflammation. A growing body of work in rodent models of colitis has demonstrated that berry consumption inhibits chronic intestinal inflammation. Berries are a rich dietary source of polyphenolic compounds, particularly anthocyanins. However, berry anthocyanins have limited bioavailability and are extensively metabolized by the gut microbiota and host tissue. This review summarizes the literature regarding the beneficial functions of anthocyanin-rich berries in treating and preventing IBD. Here, we will establish the role of barrier function in the pathogenesis of IBD and how dietary anthocyanins and their known microbial catabolites modulate intestinal barrier function.
Downloads
Download data is not yet available.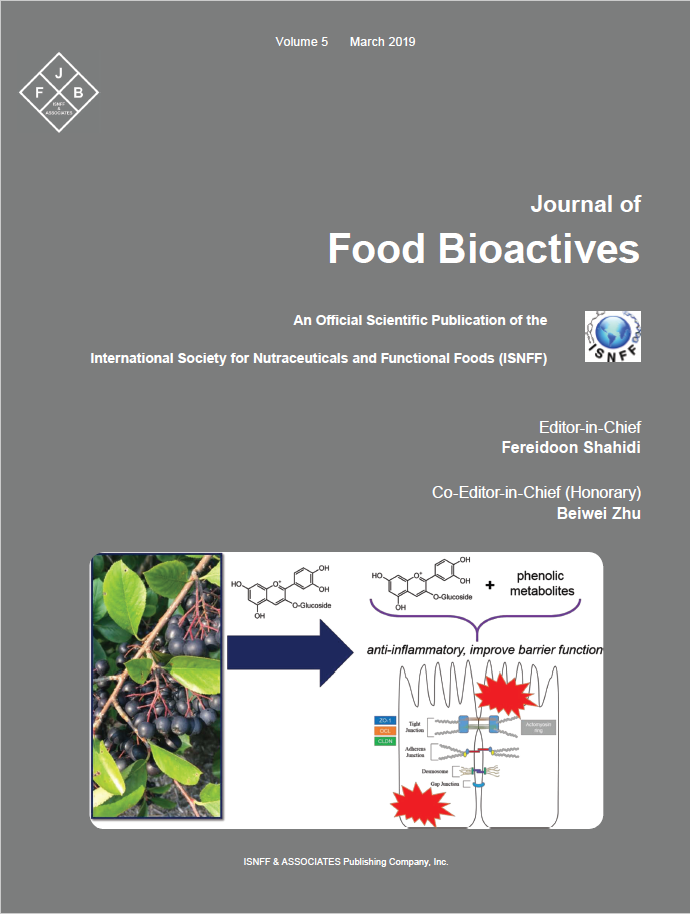 How to Cite
Valdez, J. C., & Bolling, B. W. (2019). Anthocyanins and intestinal barrier function: a review. Journal of Food Bioactives, 5, 18-30. https://doi.org/10.31665/JFB.2019.5175
This work is licensed under a Creative Commons Attribution-NonCommercial 4.0 International License.