Role of hydrophobicity in food peptide functionality and bioactivity
Caleb Acquah

Elisa Di Stefano

Chibuike C. Udenigwe
Abstract
Peptides are important compounds used in the development of functional biomaterials, functional foods and nutraceuticals. The functional and bioactive properties of peptides are directly linked to their structural features, including molecular size, presence or absence of charges, amino acid sequence, hydrophobicity, and hydrophilicity. The role of peptide structures in their bioactivities and functionalities is still emerging. Some bioactive peptides have undesirable taste, which can influence consumer interests in novel peptide-based food applications. In this review, we discussed the role of peptide hydrophobicity in their bioavailability, bioactivity, bitterness property, emulsion stability, aggregation and self-assembly for application in novel food formulations and nutraceutical/ drug delivery.
Downloads
Download data is not yet available.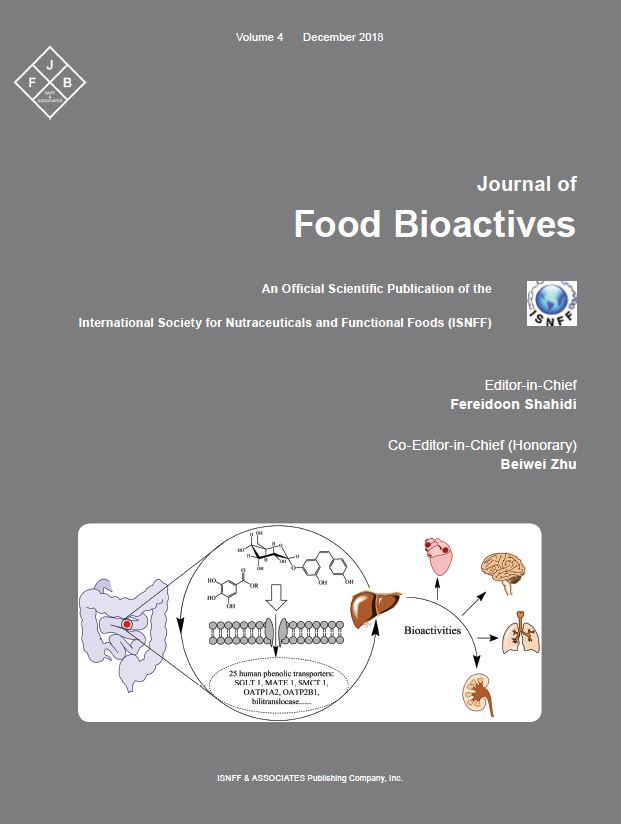 How to Cite
Acquah, C., Stefano, E. D., & Udenigwe, C. C. (2018). Role of hydrophobicity in food peptide functionality and bioactivity. Journal of Food Bioactives, 4, 88–98. https://doi.org/10.31665/JFB.2018.4164
Copyright (c) 2018 Journal of Food Bioactives
This work is licensed under a Creative Commons Attribution-NonCommercial 4.0 International License.