Wheat gliadin deamidated by cation-exchange resins induces oral tolerance in a mouse model of wheat allergy
Ryosuke Abe

Narumi Matsukaze

Yusuke Yamaguchi

Makoto Akao

Hitoshi Kumagai

Hitomi Kumagai
Abstract
Wheat allergy is a serious disease because it is difficult to be outgrown and sometimes induces anaphylaxis. Gliadin, a major allergen in wheat, deamideted by cation-exchange resins (DG) had low allergenicity not only in vitro but also in vivo. As the allergen-specific immunotherapy, a treatment for allergies, hold a risk of severe allergic reaction, the deamidated gliadin that has low allergenicity would provide an effective tool for treatment of wheat allergy. Thus, we examined if DG would induce oral tolerance using a mouse model of wheat allergy. Mice sensitized with untreated gliadin (UG) by intraperitoneal injection were orally administered with DG every other day for four weeks, and then UG was orally challenged to induce systemic anaphylaxis. Repeated oral administration of DG suppressed allergic reaction induced by UG challenge, and dramatically increased the number of regulatory T cells indicating deamidated gliadin induced oral tolerance.
Downloads
Download data is not yet available.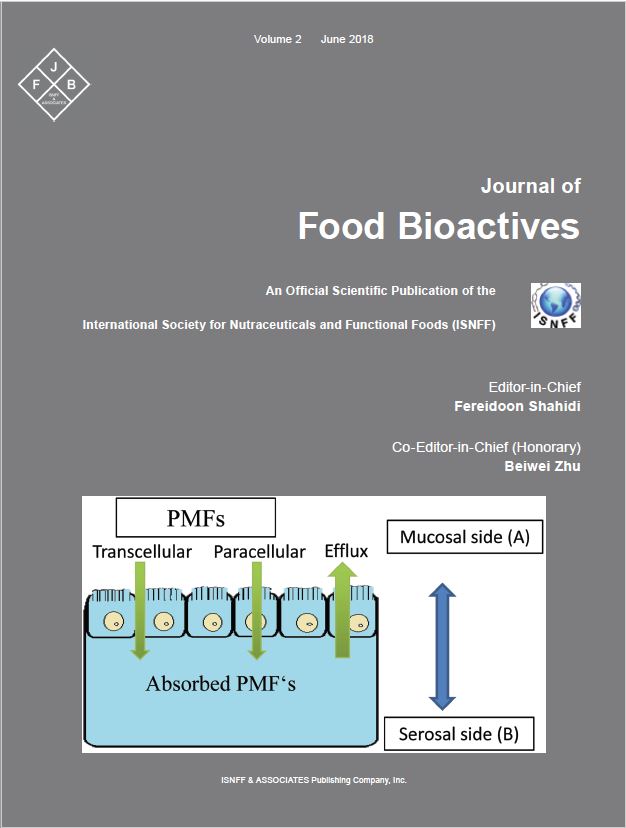 How to Cite
Abe, R., Matsukaze, N., Yamaguchi, Y., Akao, M., Kumagai, H., & Kumagai, H. (2018). Wheat gliadin deamidated by cation-exchange resins induces oral tolerance in a mouse model of wheat allergy. Journal of Food Bioactives, 2(2), 119–128. https://doi.org/10.31665/JFB.2018.2147
Section
Original Research
This work is licensed under a Creative Commons Attribution-NonCommercial 4.0 International License.